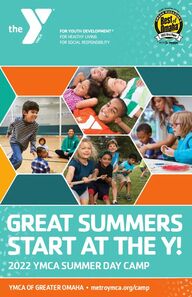 Return to flip book view
2022 YMCA Summer Day Camp Guide
Page 1
GREAT SUMMERSYMCA OF GREATER OMAHA • metroymca.org/camp2022 YMCA SUMMER DAY CAMPYouth Summer CampSTART AT THE Y!
Page 2
WHERE FUN IS HAD BY ALL!YMCA Day Camp offers a wide range of engaging summer day camp options that accommodate all families. You'll nd programs convenient to home & work and programs that meet your child's interests & abilities. Children can enroll in just a few weeks of camp or spend the entire summer with us! New experiences, skill-building, a sense of community, and lasting friendships are all an integral part of YMCA Summer Day Camp. Weekly themed activities allow campers to create arts & crafts, explore science & technology, swim, appreciate nature, and better understand our many cultures. Campers will build their self-condence, appreciate teamwork & sportsmanship, all while gaining independence as they nurture their spirits, challenge their minds, and strengthen their bodies. Kids will explore diverse interests and have a lot of fun along the way!YOUR CHILD IS IN GOOD HANDSOur staff aren't just counselors, they're mentors and most importantly role models! We take pride in the quality and commitment of our staff, who are mostly teachers and college students. All staff participate in a comprehensive training program to prepare them to care for your child, plus they are certied in First Aid & CPR. Counselors at the YMCA are caring, energetic, responsible people dedicated to making sure each camper has an amazing summer camp experience. FUNYMCA campers stretch themselves physically and creatively. Kids play games, read, create books, and write poetry. They participate in science experiments, solve puzzles, craft art, and perform music & shows. Parents say their kids come home tired, dirty, and smiling; frequently humming a new camp cheer!YMCA OF GREATER OMAHA1YMCA SUMMER DAY CAMP
Page 3
ACTIVITIESDay Camp with the Y provides kids ages 5-12 with supervised activities that teach core values, conict resolution, leadership skills, social responsibility, and more. Campers have fun while they develop friendships, better their health, enhance literacy, develop skills, gain independence, and appreciate teamwork.The Y works to help youth discover their full potential by providing opportunities to learn, grow, and thrive amidst caring, supportive adults. These experiences are grounded in a set of objectives that characterize all of the YMCA Summer Day Camp programs. Through the Y's day camp program, kids participate in fun and educational activities that help them with:RELATIONSHIPSWe facilitate relationships with and among youth, creating a space for them to make new friends and interact with supportive staff role models.ACHIEVEMENTWe provide thoughtful program activities to help youth gain knowledge, develop new skills, build condence, & discover themselves. YMCA CORE VALUESLearn how to incorporate the values of honesty, respect, responsibility, and caring into everyday activities.BELONGINGWe provide a safe & inclusive environment so that every youth feels welcome and nds a place to belong.2metroymca.org/camp
Page 4
Weekly schedules are provided at the beginning of each session and families are encouraged to review them with their child. Our staff provides a wide variety of daily activities that are age-appropriate, recreational, enriching, and fun! We focus on education through STEM and reading, empowering creativity through art, and encouraging physical activity with sports & swimming. Throughout, we instill the YMCA core values of caring, honesty, respect, and responsibility.ARTS & CRAFTSDuring art time, children discover new skills & talents through art in a welcoming environment where they feel comfortable to express themselves.STEMDeveloping critical-thinking, learning how to fail, & working successfully on a team are all traits we focus on in our STEM specialty. Kids will explore the wonderful world of science, technology, engineering, & math!READINGChildren will be encouraged to read and work towards school reading goals. Designated reading time will take place during aftercare at each of our sites.SPORTSChildren will build condence, discover their personal best, & develop sportsmanship while learning the fundamentals of sports.CHARACTER COUNTSCaring, honesty, respect, & responsibility, our YMCA Core Values, are all taught in Character Counts through group games & self-reecting activities.SWIMMINGChildren will have the opportunity to swim & have fun during recreational time in our pool!YMCA OF GREATER OMAHA3SUMMER DAY CAMP: SCHEDULE
Page 5
metroymca.org/campMay 31– June 3YMCA WeekJune 6-10SurvivorWEEK1WEEK2June 13-17WildlifeAdventuresJune 20-24Triple Threat: Art, Music & DanceWEEK3WEEK4June 27-July 3Nutrition MattersJuly 5-8Camp H20WEEK5July 11-15YMCA OlympicsJuly 18-22Art Around the WorldWEEK7WEEK8July 25-29Shark WeekAugust 1-5Nature ExplorersWEEK9WEEK10August 8-12CodingAugust 15-19YMCA Week(Iowa only)WEEK11WEEK12SUMMER DAY CAMPWEEKLY THEMESSee pages 5 & 6 for rates & locations4WEEK6
Page 6
Summer Day Camp Rates:• Completed enrollment forms• Registration and deposit payments• Current photo of camper• Immunization history for camper• Member: $155/week• Non member: $185/week• Sunscreen• Water bottle• Swimsuit & towel• Backpack*Payment is required in full the Friday prior to camp start date. We cannot admit any campers if the fee has not been paid and all required forms are not completed at registration. Visit metroymca.org/camp for more registration information.What you need to register:What to bring each day:REGISTRATION & PAYMENT• Gym shoes• Camp t-shirt for walking days• Lunch (ask for details at your YMCA)• Your smile & sense of adventure!One-time registration fee: $25/child. To hold your place, a non-refundable deposit of $20/week/child is required. SCHOLARSHIPSYMCA programs are available for all. You may request a nancial aid application from any YMCA of Greater Omaha location. State subsidies are accepted at many of our locations. Please inquire at your local YMCA location for more information.SUMMER DAY CAMP: DETAILSYMCA OF GREATER OMAHA5Save with our $15/sibling discount!
Page 7
GIVE YOUR KIDS THE BEST SUMMER EVER!From opening ceremonies to closing ceremonies, each day our campers will make friends and learn skills in activities that reinforce the Y's core values of honesty, respect, responsibility, and caring.MEMBERSHIP MAKES A DIFFERENCEA Y membership connects you and your family with a healthy lifestyle and a supportive community. Members have full access to our 10 metro-area locations, and get special member rates on programming like swimming lessons and youth sports.SUMMER DAY CAMP DATES: May 31-August 19, 2022Summer Day Camp Hours: 9:00 am-4:00 pm**Campers may be dropped off as early as 7:00 am & picked up by 5:30 pm for no additional charge.YMCA SUMMER DAY CAMP LOCATIONSARMBRUST YMCA 5404 S 168th St. Omaha, NE 68135 402-896-4200CHARLES E. LAKIN YMCA 235 Harmony St. Council Bluffs, IA 51503 712-322-6606DOWNTOWN YMCA 430 S. 20th St. Omaha, NE 68102 402-341-1600MAPLE STREET YMCA 7502 Maple St. Omaha, NE 68134 402-393-3700MILLS COUNTY YMCA 110 Sivers Rd. Glenwood, IA 51534 712-527-4352SARPY YMCA 1111 E. First St. Papillion, NE 68046 402-339-9861SOUTHWEST YMCA 13010 Atwood Ave. Omaha, NE 68144 402-334-8487TWIN RIVERS YMCA 6100 Twin Rivers Cir. Valley, NE 68064 402-359-96226metroymca.org/camp
Page 8
Youth Summer CampYMCA OF GREATER OMAHACamp lls up fast...don't miss out! SUPER KIDSSUPER CAMPSWe're gearing up to give your kids the summer adventure of a lifetime!